LEARNING RESOURCE DURING SCHOOL CLOSURE
24.4.20
From Monday 27th April TES Education are launching a Letters and Sounds daily phonic home learning funded by DFE. We have attached an information letter for parents/carers and the schedule of lessons planned for over the summer term.
Here is the YouTube link for the lessons they have already uploaded a guide for parents/carers.
17.4.20
To all our BGP Family we hope you have all had a lovely Easter break and managed to enjoy the sunshine. Despite all our crossed fingers we will unfortunately not be back in school on Monday 20th April as we originally hoped, the lockdown period has been extended and BGP remains closed. All staff continue to work out of the St Oswald's Hub. So from Monday home learning will commence once again. Obviously we cannot provide the packs of home learning materials that we gave for the two weeks prior to the Easter break so staff will be putting weekly planning on their class page on the website along with a suggested weekly timetable. They will also be sending tweets and texts throughout the week. If you have any queries regarding the work please do email the class teachers and they are more than happy to help. We really hope that we will see all our lovely children very soon, we are really missing you all. Stay safe everyone. Kind regards Mrs Moore
Here is a suggested timetable for a week of home learning.
Specific links for each class can be found on their individual class page, teachers will be adding regular updates.
Nursery Reception Year 1 Year 2 Year 3 Year 4 Year 5 Year 6
Look at this Action for Happiness, try and tick off all 30 actions!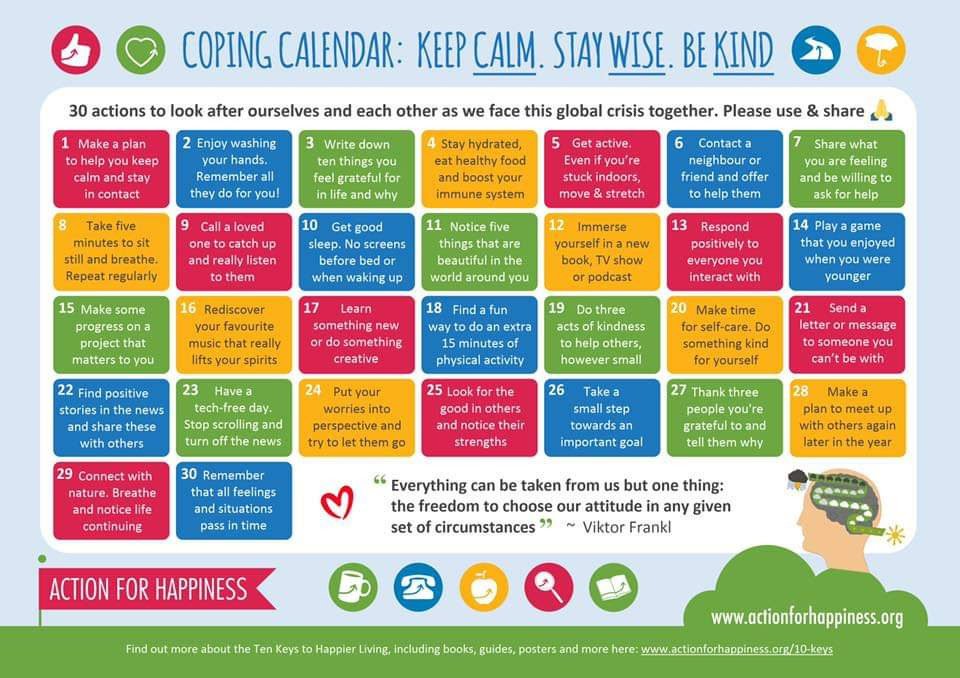 For general resources see the links below.
Twinkl has a range of resources, setting this up is really easy to do - go to www.twinkl.co.uk/offer and enter the code UKTWINKLHELPS
Virtual School Learning From Home.pdf
Useful Websites
English
https://whiterosemaths.com/resources/
http://www.iseemaths.com/home-lessons/
https://play.numbots.com/#/intro
General resources
https://www.discoveryeducation.co.uk/
https://www.bbc.co.uk/teach/primary/zd7p47h
https://www.bbc.co.uk/teach/supermovers
https://www.tate.org.uk/kids

https://www.natgeokids.com/uk/
https://www.getset.co.uk/travel-tokyo/log-activity
https://leadersaward.com/home-learning/
WowActive_Challenge_Cardspdf.pdf
https://www.actionforhappiness.org/
https://www.bbc.co.uk/bitesize
https://www.teachertoolkit.co.uk/2020/03/15/how-to-teach-online/
https://kosovo.britishcouncil.org/en/teach/online-resources
MFL Resources
https://radiolingua.com/learnathome/?fbclid=IwAR3_XTWg9jFgS0td8MK2qfpJBQ2kRTPkP7q4ZKSTkwaisy3nnokpNrKgtbY
https://www.thefrenchexperiment.com/stories?fbclid=IwAR0dvE1xJ-bzmJXjQKpfhRAQu02fWIGHsc9Kk4JfzxiJD2qpjALBV6FR6BA
https://artsandculture.google.com/partner/musee-dorsay-paris?hl=en&fbclid=IwAR2RfmP32x_-MfKR7Qp3SJYz49i8X7C3pMBYe616PIhDKq45WN2uEv7NeH8
https://www.lightbulblanguages.co.uk/resources-fr-pz.htm?fbclid=IwAR07Ng2b3AakACpTsGNstOH_EhvvrVyeYkwlWpno1sI5gXs1r8VVawqFaig
https://www.duolingo.com