Please click on the link to take a look at the results of our recent reading survey.
English
Hello, I'm Mrs N.Lark-Spain, Lead Co-ordinator for English at Broadgreen Primary School and I'd like to welcome you to our English Curriculum page. Here you will find lots of information to tell you a little bit more about how we approach this core subject at BGP and also some links to useful sites that will help you to support your child's learning in English. If you require any further details, I'm always happy to help so please email me at n.lark@broadgreenprimary.org.uk or speak to your child's class teacher. This page will be regularly updated so don't forget to check back again soon.
WE ARE SO PROUD TO HAVE ACHIEVED THE LIVERPOOL READING QUALITY MARK SILVER AWARD.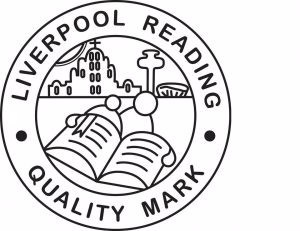 BGP English Curriculum
We follow the School Improvement Liverpool medium term plans for English which link directly to the National Curriculum. Click here for an overview of the unit plans for each year group. You can also visit your child's class page on this website for current curriculum information. For our English related school policies, click here.
Handwriting
At BGP we encourage children to take pride in how their work is presented and teach the PenPals joined handwriting script, beginning in Foundation Stage. For an introductory video to PenPals visit this link https://www.youtube.com/watch?v=R7BpAomCdeo . The 'Scope and Sequence' overview, which shows the letter formation and joins taught in each year group can be accessed as a pdf by clicking here http://education.cambridge.org/media/57038/scopeandsequence.pdf .
Spelling, Grammar & Punctuation
To read our school's Spelling Policy please click here.
Links to the National Curriculum spelling word lists for each year group can be found here https://www.gov.uk/government/uploads/system/uploads/attachment_data/file/239784/English_Appendix_1_-_Spelling.pdf and National Curriculum vocabulary, grammar and punctuation year group expectations can be found as a pdf by following this link https://www.gov.uk/government/uploads/system/uploads/attachment_data/file/335190/English_Appendix_2_-_Vocabulary_grammar_and_punctuation.pdf
Reading
At BGP reading and fostering a love of the written word is central to everything we do. We are fortunate to have a fabulous well-stocked school library and outdoor reading spaces, alongside Book Stops in shared spaces throughout school and individual class Reading for Pleasure areas. Our staff share their passion for reading with our pupils and we regularly organise reading events and visits for the whole school community. To find out more about what's coming up next please check out our school Twitter account @BGPrimary and use the hashtag #BGPReads
Caught Reading!
We'd love to hear about your family's adventures in reading! Why not Tweet us a photo @BGPrimary of you and/or your child 'caught reading', using #BGPReads #CaughtReading. You might make it onto our Caught Reading display and earn yourself a prize!
Parent Book Swap
Have you visited our Parent Book Swap trolley in the main entrance? Here you'll find plenty of books for 'grown ups' (plus some 'toddler books' for our pre-school visitors) that you're warmly invited to take home with you to read. When you've finished, pop the book back in the trolley and help yourself to another! If you have any books you'd like to donate to the trolley we'd love to have them, thank you – you can pass any unwanted books in to our office.
'Book Hour' Club
We run a number of book clubs in school for our children and we now hope to start a once monthly drop-in 'book hour' club for our parents/carers and grandparents. This will be an informal group where you can meet to chat about what you've read and share some refreshments; it will run a little like this: http://www.penguin.com/read/book-clubs/create/ . We've made links with our local library in Old Swan who will provide sets of books for you to choose from. Do you enjoy reading for pleasure? Would you be interested in coming along? Please email expressions of interest to n.lark@broadgreenprimary.org.uk
Useful English Websites
Here are some useful sites to help you to support your child's learning in English:
A wonderful side, packed with fun games to help your child in all areas of English. http://www.crickweb.co.uk/ks2literacy.html
This site links to 'Magic Key' activities to support some of the books we use as part of our home reading scheme. http://www.bbc.co.uk/schools/magickey/index.shtml
Fun activities for KS1 from the BBC to help your child with literacy http://www.bbc.co.uk/bitesize/ks1/literacy/
Phonic games and activities from Words and Pictures http://www.bbc.co.uk/schools/wordsandpictures/
Reading, writing and spelling and grammar skills can help you tell a story, share your ideas, write a letter and make sense of instructions. We use them every day and they help us understand each other. This KS2 Bitesize site from the BBC has lots of information, clips, revision and games to support the English curriculum http://www.bbc.co.uk/bitesize/ks2/english/
Look, Cover Check spelling practice game http://www.amblesideprimary.com/ambleweb/lookcover/lookcover.html
Print out this writing mat to help you to improve your writing https://parkfield.edmodo.com/file/view-crocodoc-new-window?uuid=dc39e5e2-22b8-4850-b2a2-81cf338f3939&file_id=7216430
On-line Oxford dictionaries and word games https://www.oxforddictionaries.com/schools
Space themed 'hangman' spelling game http://www.lancsngfl.ac.uk/curriculum/literacyresources/files/alpha/alpha.htm
You can also follow Liverpool Libraries on Twitter
@
Liverpoollib
for up to date information on the many free weekend and holiday activities they organise for children in their beautiful 'Discover' area - a
stunning space in Central Library for children to discover books, with an accessible area for under 5's, f
ree computers for children do school work or have fun and storytelling/themed days.
Reading Revolutionaries
We're proud to introduce our wonderful Reading Revolutionaries - pupils from Years 4 and 5 who have been trained by The Reader Organisation to plan their own reading for pleasure sessions with their reading buddies in Years 2 and 3. Our 'Revs' meet every Friday to select books for their buddies and plan talking points from the stories to discuss during their reading sessions, which take place every Wednesday.
BGP Reads' Ambassadors
Our Reading Ambassadors from Y1-Y6 stood for election within their classes, having put themselves forward as 'reading fanatics', keen to share their love of books with the rest of the school! The Ambassadors wear special green badges so they can be easily spotted around school. They meet regularly to organise reading related events, such as Reading Cafes, surveys, book swaps, lunchtime reading clubs and competitions. Check out the BGP Reads noticeboard opposite the library for regular updates about 'what's on'.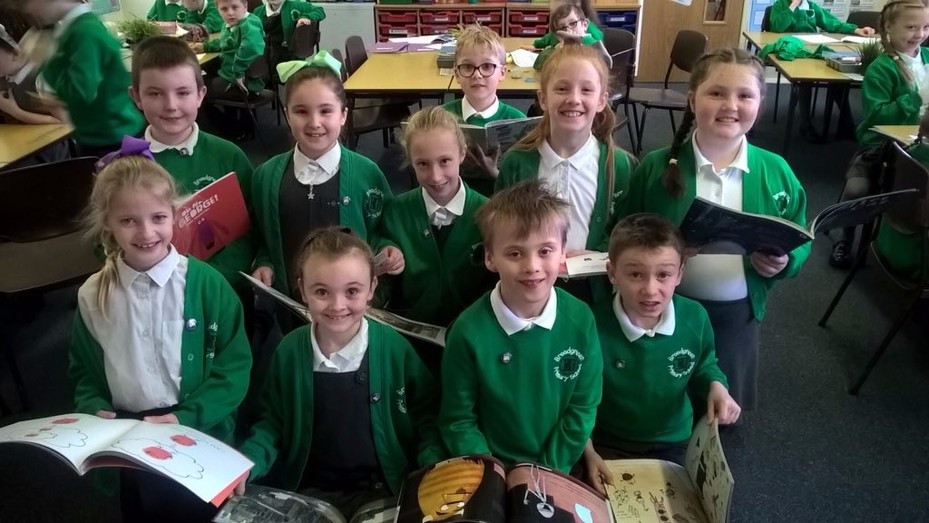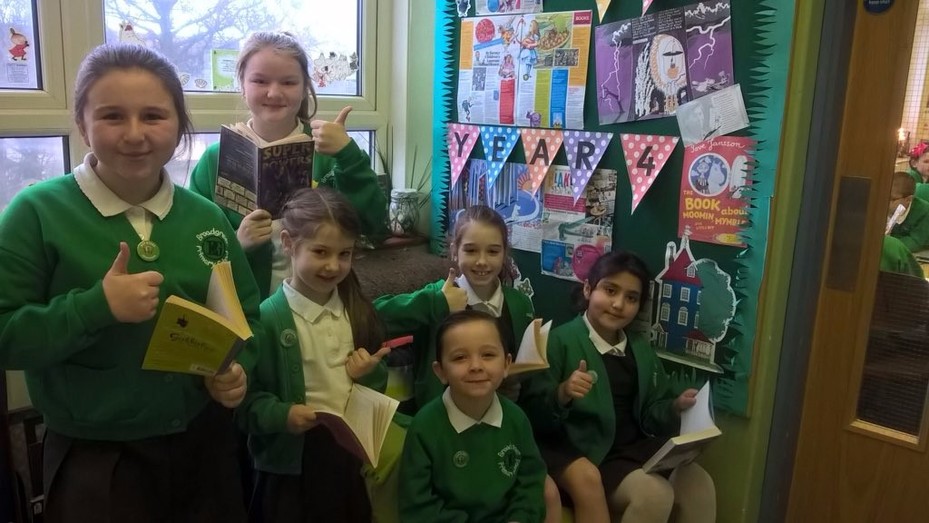 Harry Potter Book Night Reading Cafe
Recommended Reads
For some great book recommendations for children take a look at http://www.goodreads.com/genres/childrens
And for others in our BGP family...
Two strangers' lives become inextricably intertwined in a beguiling debut that's tipped for great things in 2017.
Dear Reader,
When is a detective novel, not a detective novel?
The answer might lie in Mary Paulson-Ellis's striking debut, The Other Mrs Walker. Described as doing 'for Edinburgh what the great mistress of domestic macabre Ruth Rendell did for North London', this highly inventive debut offers up a mysterious, unidentified body and even a detective, of sorts, but the real story digs deeper; to question how we mark the world in life and what clues we leave behind us when we die.
Margaret Penny exits her flat in London for a freezing Edinburgh winter. Wearing a stolen red coat and a pair of unsuitable shoes, she is fleeing to a world locked in the past, a life she thought she had left behind. In another part of Edinburgh, a woman dies alone, leaving behind only her name, Mrs Walker, and a series of curiosities – a silver spoon, a bone-handled hairbrush, Brazil nuts, an orange - traces of a history, of another life. The two are strangers and yet their lives are fated to become inexorably intertwined.
Chosen as Waterstones Scottish Book of the Month for March, The Other Mrs Walker has already garnered lavish praise, with The Herald describing it as 'one of the strongest debuts of the year', earning its author comparisons with Kate Atkinson and Sarah Waters. Over on our blog you can read an exclusive interview with Mary Paulson-Ellis discussing her fascination with the lost and lonely, the tantalising clues in the ephemera of the past and finding her place in the strong tradition of Edinburgh writers. Far from invisible, Mrs Walker promises to be a name you will hear again and again.

With all best wishes,

Your friends at Waterstones